Motorizuoti stabilizatoriai
FeiyuTech Vlog Pocket for Smartphone Gimbal
Sutaupote: 22.00 €
Radote pigiau?
Pasiūlykite savo kainą
Garantija:
24 mėn.
Gamintojas:
FeiyuTech
Nuoroda į gamintojo puslapį
Prekyboje:
turime 1 vnt.
Rodomi konkretūs prekių likučiai esantys Vilniaus ir/arba Kauno salonuose. Informacija nėra atnaujinama tiesiogiai. Turimos prekės gali būti neseniai parduotos arba rezervuotos, o jų likutis vis dar rodomas, todėl tikslaus prekių kiekio visuomet prašome teirautis vadybininkų telefonu ar kitais nurodytais kontaktais.
| | | | |
| --- | --- | --- | --- |
| Kiekis: | | | |
Dėti į krepšelį
Teirautis
Main Features◆Innovative foldable design on smartphone gimbal make it easily put into the pocket and take out to capture every stunning moment.
◆Net weight is 272gram while payload is up to 240gram make it be able to mount most of popular large-display smartphones.
◆basically ready to use once mounting the middle of smartphone on without balance.
◆3 Axis Motor-Lock design to efficiently fix three-axis and easy to carry around.
◆One button switch horizontal and vertical shooting for conveniently taking Tiktok video and live scene.
◆Midnight black and fantasy pink are optional to fit for different user preferences.
◆New UI design of Feiyu ON APP to supply a whole new experience of auto-connection, new main interface, motion timelapse, overlapping image and light-tracking features, more new features can be found on APP.
◆Control original camera APP of smartphone and popular beauty cam APP with both Bluetooth connection and optional control cable .
◆Long working hours up to 8 hours and standby hours up to 14 hours to supply more strong power for shooting.
◆Comes with mini tripod and portable bag as standard accessories in the package for softly protect the gimbal .
Compatible SmartphonesWidth range for smartphone is from 42mm to 88mm(about 7inch) , Maximum payload is up to 240 gram(0.53lb).
Vlog Pocket is compatible with all iPhone series, HUAWEI P30 pro、MI 9、VIVO NEX , OPPO find X,Samsung Note9 and so forth , which support 7inch or less size Android phone and iPhone.
Testing smartphone list as below:
①iPhone: iPhone XR, iPhone Xs , iPhone XS Max,iPhone8,iPhone7Plus,iPhone 6s.
②Android phone:HUAWEI P30, HUAWEI P20 Pro, HUAWEI P9,HUAWEI Mate10, HUAWEI Honor V20, HUAWEI Honor 10, HUAWEI Nova4 , HUAWEI nova 3e,MI 9, MI 8, Redmi 6 Pro, OPPO find X, OPPO R9s, VIVO NEX,VIVO X21, VIVO X23, VIVO X27,VIVO Y85, Samsung S10+,Samsung Note9,Samsung Note8,Samsung Note3, Samsung S7,Smartisan Nut Pro2, One plus 3T, Google Pixel3 and so forth(testing list please check the last part).
③150g smartphone model,250g smartphone model
④Large-display smartphone such as Honor NOTE10(6.95inch), which works fine in horizontal shooting, but pan motor may affect the smartphone when changing from horizontal to vertical shooting. Please slightly adjust NOTE10 to left side if changing to vertical shooting.
Note: Vlog pocket is not directly compatible with action cameras. If you want to mount action camera on, try to find third party mounting plate to put it on. As the picture shown


Product dimension


Fold size:108.61*55.56*145.62mm(similar as iPhone 8),Unfold size:66.76*90.96*242.08mmBattery7.4 V, 1300MAH, 9.62 Wh, Built-in Rechargeable Battery 1 Pcs. Battery could be charged by power bank with a USB cable when using it.Working hours8h,Standby hours up to14h(150g payload)Charging Time≥ 2 hours, recommending using 5V/2A adapter for charging battery (quick charger is banned from charging). The indicator is red while charging. When the battery is fully charged, it turns to green.Charging for smartphoneNot availableControl the smartphone1 Bluetooth connection : Control original camera APP to take picture/recording, and control all function of Feiyu ON APP.
2 Optional control cable :Control original camera APP to take picture/recording .
Materials In The Main BodyPC, PA6 and other materials which are of high-strength, doing best in temperatures within -45 to 135 degrees Celsius.
Optional colorMidnight black and fantasy pink are optionalBluetooth connectionBluetooth BT4.1Fold and unfold wayBecause Vlog pocket is foldable gimbal, it stays at fold state in the package, and have to unfold it before usage.
Unfold:Loose the folding knob, unfold the arm and tighten the knob, unlock the 3-axis motor.
Fold:Lock the 3-axis motor, loose the folding knob, fold the arm and tighten the knob.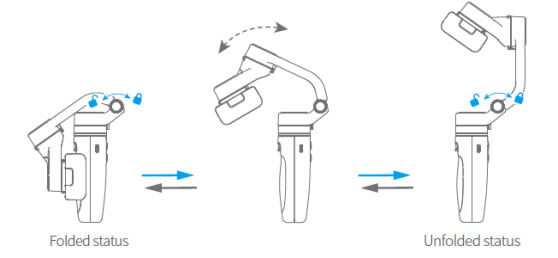 Balance(gimbal is off)Unfold the gimbal,adjust the mount plate to put Vlog pocket logo upward,
Pull the mounting plate and mount the middle of smartphone on , Keep the smartphone holder in center, as the picture shown.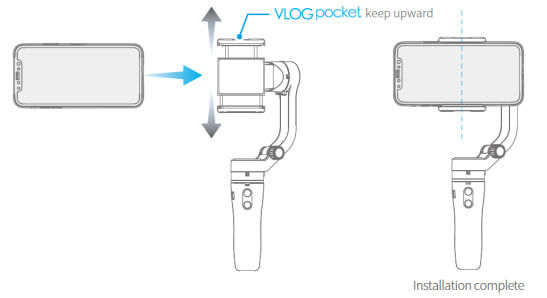 Power On/OffPOWER ON: Long-press the function button until the green light turns blue with a beep then release it. (Apporx. 2 s) POWER OFF: Long-press the function button until the light is solid red with a beep then release it. (Apporx. 3 s)Switch Between horizontal and vertical ModeDouble click the function button to switch modes between horizontal and vertical Modes.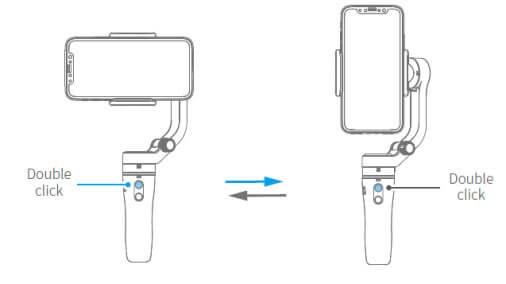 Switch Between normal and inverse holding way(low angle shooting)●Holding the handle in normal way, double click the trigger button to reset the gimbal.
●Press and hold the trigger button, turn the handle from front side to inverse holding way. Loose the trigger button until the handle is vertically upward.
Note: Please DO NOT turn the handle from right side to upward(because the roll motor will be in the footage)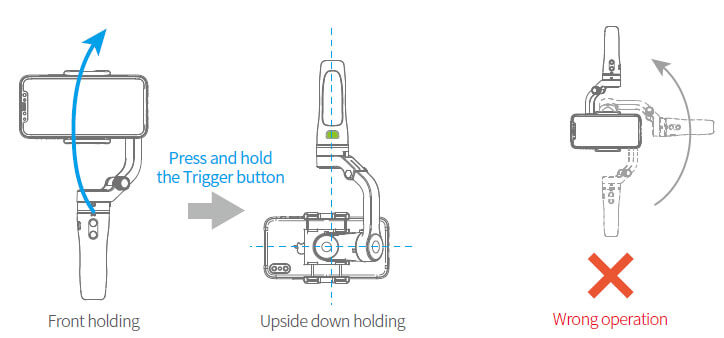 Operational Function For UsersThree working modes:Pan mode, follow mode( Pan and tilt), lock mode.
The way to change Different modes as below: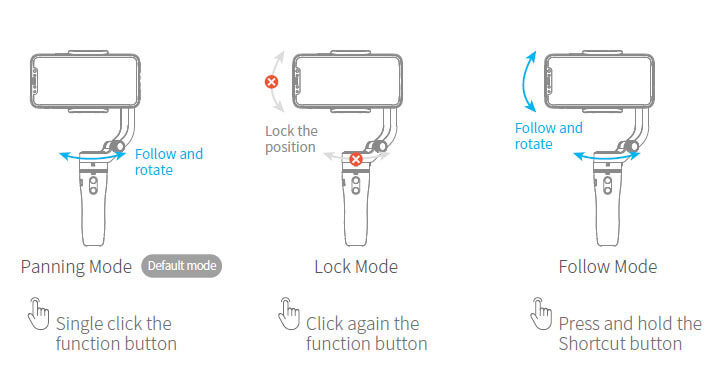 Function button operations:
1.Single tap: Switching between panning mode (Default mode) and lock mode.
2.Double tap: Switching between horizontal and vertical Mode, working mode don't change.
3. Quintuple tap: Initializing the gimbal in order to get correct attitude parameters when it is not level or in abnormal status.
Steps: The LED is in solid blue after quintuple tapping function button. The gimbal automatically detect whether or not it is placed on a static flat surface. Initialization will be done automatically (LED flashes blue three times to indicate initialization is done) once the gimbal has detected that it is placed on a static flat surface.
Otherwise, the gimbal is keeping detect and wait. When initialization is done successfully, single tap function button to wake up the gimbal.



Shutter button Operation: single tap shutter button to take photos or videos , switch between front and rear camera, change camera modes.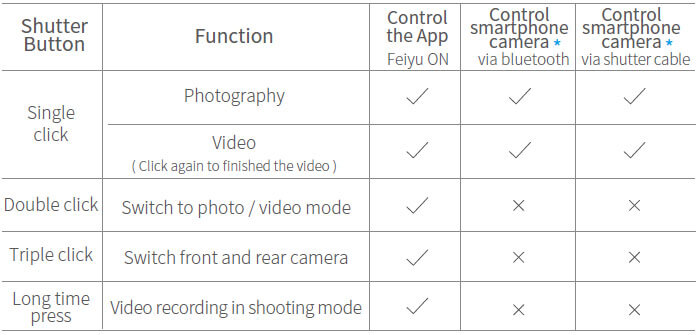 Trigger Button Operation:
1. Long press and hold to enter follow mode. Release it to go back to the previous mode.
2. Double tap: reset the gimbal, it will go back to panning mode no matter what current mode is, and three axis are reset to default position.
Quick switch between horizontal and vertical Mode for live show and Tiktok shooting.
Quick fold and unfold way, physical lock 3-axis motor to easily carry around.
Optional control cable and Bluetooth control original camera APP and beauty Cam to take photo /recording.
Manually lock tilt motor to any angle as you need to take Vlog video.
Connect with Feiyu ON App to make face/object tracking,Timed photography, motion timelapse, overlapping image and light-tracking features, edit the video, virtual remote control, firmware update, set up parameters, change working mode , more new features can be found on APP.
Initialize the gimbal when it is not level or in abnormal status for correct attitude parameters.
Controllable RangeTilt: 240°
Roll: 165°
Pan: 330°
Weight272g (smart phone is not included)
Extended PortOne 1/4 inch screw hole at the bottomStandard AccessoriesMicro USB cable *1 (for charging), Small Tripod *1,Portable bag*1
Optional AccessoriesExtension pole (with 1/4 screw), smart phone-control cable (Micro-lightning,Micro-audio,Micro-type c), universal tripod with 1/4 screw.
Panašios prekės